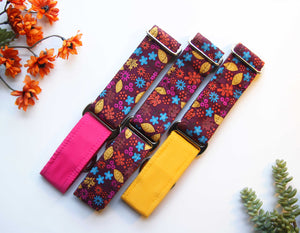 Pink Autumn Fall Martingale Collars 1.5" Large (13 - 17") Ready to Ship
---
These autumn / fall 1.5 inch wide martingale dog collars feature colorful leaf patterns in yellow, pink, burnt orange and blue. They are pre-made and ready to ship in our most popular size.
Simply select the one you want in the drop down menu.

Left: Hot pink control loop.
Middle: Same pattern.
Right: Yellow control loop.

Want a different size? See our autumn and fall collection.

Collar Type
Fabric Martingale

Collar Width: 1.5"
Collar Size: L: 13 - 17" (Greyhounds, Australian Shepherds, Golden Retrievers)

What is a fabric martingale collar?
A martingale collar tightens up evenly around the neck when the dog pulls on leash preventing escape and gaining more control. It has two loops, an adjustable loop where the dogs head goes in and one smaller loop for where the leash attaches to the D-ring. Because of the tightening effect, martingales should ONLY be used for walks, never to be left on in the house.
If you have a question about anything, please see our FAQ page: HEREStill can't find an answer? Send us a message! Contact info up top.

Production time: 3 - 10 business days
Shipping times are approx:
Canada 4 - 7 days
USA: 5 - 10 days
International: 7 - 20 days

★New collar designs, giveaways and coupon codes on facebook: HERE
★Follow us on Instagram: HERE

Thank you for shopping small and choosing Collar Town! ♥