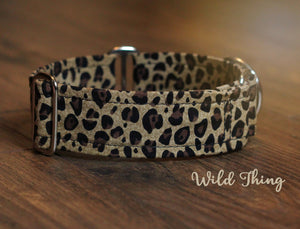 Leopard Animal Print Martingale Dog Collar, 1.5" Wide Ready to Ship, Size Large 13-17"
---
This 1.5 inch feathers martingale dog collar is ready to ship. It features a leopard cat print. Also known as a humane choke collar or greyhound collar. It's pre-made in our studio in Canada, in a size large which fits 90% of greyhounds as well many other breeds.

Size: Large (13" - 17" neck)
Width: 1.5 Inches
Type: Fabric Martingale
How are your collars made?


Handmade in Canada

800lbs polypro webbing interior
Wrapped with 100% organic cotton fabric
Top stitched three times with industrial strength thread
Premium strong hardware


What is a martingale collar?

A martingale collar tightens up evenly around the neck when the dog pulls on leash preventing escape and gaining more control. It has two loops, an adjustable loop where the dogs head goes in and one smaller loop for where the leash attaches to the D-ring. Because of the tightening effect, martingales should ONLY be used for walks, never to be left on in the house.

This collar can also be made to order (not ready to ship) in any other width, size or type (buckle collars too), see our main shop menu.

When will I get my collar?

Ready to ship martingale collars, will ship out of our office in Ontario, Canada within approx 3 business days:
Shipping to the rest of Canada: 2 - 5 business days.
Shipping to the USA: 5 - 10 business days.
Shipping to AUS/EUR and other: 10 - 20 business days.

Questions? Contact us: Here